Show results for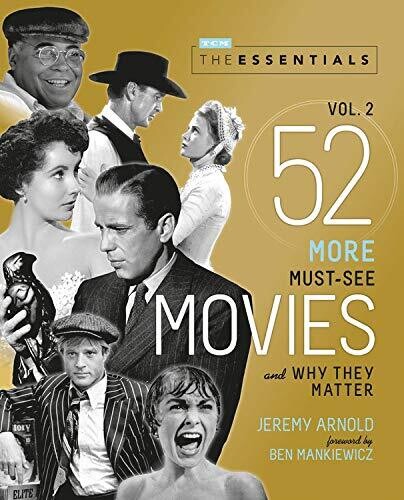 ESSENTIALS 2
Summary
A guide to fifty-two examples of must-see cinema, The Essentials Vol. 2 -- based on the Turner Classic Movies series -- is packed with behind-the-scenes stories, illuminating commentary, moments to watch for, and hundreds of photos spotlighting films that define what it means to be a classic.
Since 2001, Turner Classic Movies' The Essentials has been the ultimate destination for cinephiles both established and new, showcasing films that have had a lasting impact on audiences and filmmakers everywhere. In this second volume based on the series, fifty-two films are profiled with insightful notes on why they're Essential, a guide to must-see moments, and running commentary from Essentials hosts past and present: TCM's Ben Mankiewicz and the late Robert Osborne, as well as Rob Reiner, Sydney Pollack
Enjoy one film per week for a year of stellar viewing or indulge in your own classic movie festival. Spanning the silent era through the late 1980s with such diverse films as Top Hat, Brief Encounter, Rashomon, Vertigo, and Field of Dreams, it's an indispensable book for movie lovers to expand their knowledge of cinema and discover -- or revisit -- landmark films that impacted Hollywood forever.
Turner Classic Movies is the definitive resource for the greatest movies of all time. We entertain and enlighten to show how the entire spectrum of classic movies, movie history, and movie-making touches us all and influences how we think and live today.
About the Author
Jeremy Arnold is a film historian, commentator, and author of Turner Classic Movies: The Essentials (volumes 1 and 2) and Christmas in the Movies: 30 Classics to Celebrate the Season.
He has written more than 600 programming articles for the TCM website, and his writing has appeared in Variety, The Hollywood Reporter, Moviemaker, and the Directors Guild of America magazine.
He has also recorded audio commentaries for the Blu-ray or DVD releases of numerous vintage films.
He lives in Los Angeles.
Product Details
Color and B&W photos throughout
Paperback: 312 pages
Publisher: Running Press Adult