Show results for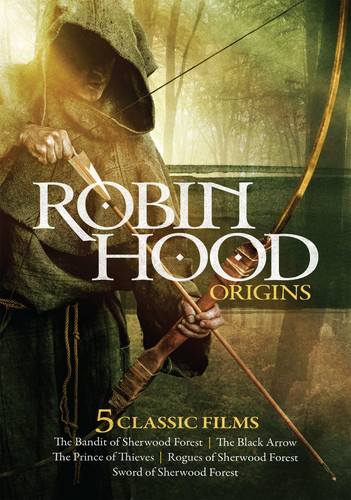 Robin Hood Origins: 5 Classic Films
The Bandit of Sherwood Forest - (1946)
The legendary English hero Robin Hood, Robert of Nottingham (Cornel Wilde) has grown up to be a dashing lover and outlaw, committed to the pursuit of justice for all. When the King of England is imprisoned by a cruel Regent bent on snuffing out the country's new legal guiding light, the Magna Carta - The Queen Mother and Lady Catherine (Anita Louise) turn to Robert and his Merry Men for help.
The Black Arrow - (1948)
En route to Nottingham Castle to see his fiancée, Lady Cristabel, Sir Allen Claire and his sister Lady Marian (Patricia Morison) are told by Robin Hood (Jon Hall) that Sir Allen's bride-to-be is being forced into an arranged marriage by her father, Baron Tristram. With help from the Prince of Thieves, Sir Allen hopes to break into the castle to rescue and marry the woman he loves.
The Prince of Thieves - (1948)
Returning from duty in the 15th-century War of the Roses, young Richard Shelton (Louis Hayward) learns that his estate has been claimed by his usurping uncle Sir Daniel Brackley (George Macready), who for good measure has also murdered Richard's father. Forced to elude Brackley's minions, Shelton and his followers eventually manage to thwart the villain with all manner of weaponry, from crossbow to fist.
Rogues of Sherwood Forest - (1950)
As his reward for defending his tenants against King's John's troops, Robin, Earl of Huntington (John Derek) - the son of the legendary Robin Hood -- is branded an outlaw just like his father. Facing a death sentence, Robin escapes and, with help from Lady Marianne (Diana Lynn), heads for Sherwood Forest to persuade his father's band of Merry Men to join his battle against King John (George Macready).
Sword of Sherwood Forest - (1960)
In a Hammer Film production featuring TV's Robin Hood (Richard Greene), the wicked machinations of the Sheriff of Nottingham (Peter Cushing) come to light as an evil plot to assassinate the Archbishop of Canterbury unfolds. Robin and his Merry Men jump into action for a swashbuckling adventure full of spectacular battles and bold romance.
Robin Hood Origins: 5 Classic Films
| | |
| --- | --- |
| Studio: | Mill Creek |
| Number of Discs: | 2 |
| Release Date: | 1/8/2019 |
| | |
| --- | --- |
| Product Type: | DVD |
| UPC: | 683904547675 |
| Item #: | 2120243X |