Show results for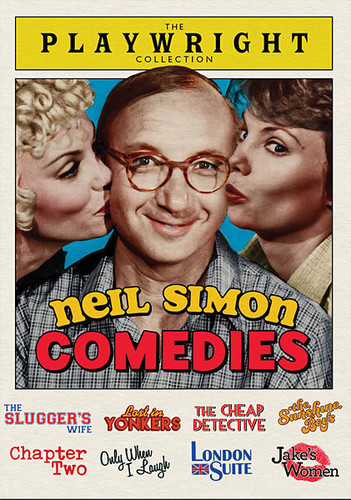 Description
Three-disc set includes:
The Cheap Detective (1978)
Neil Simon penned this hilarious homage to Bogey-like detective flicks. Peter Falk plays a wise-cracking gumshoe on a mysterious case who encounters a line-up of zanies that resemble characters out of 1940s movies. Ann-Margret, Eileen Brennan, James Coco, John Houseman, Madeline Kahn, and Dom DeLuise head the all-star supporting cast. 92 min. C/Rtg: PG
Drawing from his own life, Neil Simon crafted this comedy-drama about a successful Broadway playwright (James Caan) who struggles with the guilt of falling in love with an attractive actress (Marsha Mason), while still mourning the loss of his beloved first wife. Co-stars Valerie Harper, Joseph Bologna. 126 min. C/Rtg: PG
Having just emerged from alcohol rehab, veteran Broadway actress Georgia Hines (Marsha Mason) had plenty of trepidation about her pending comeback project. Will the stress of returning to work--as well as having the teenage daughter (Kristy McNichol) she lost custody of wanting to re-enter her life--undo the sobriety she struggled so hard to achieve? Neil Simon adapted his poignant comedy-drama "The Gingerbread Lady" for the screen; James Coco, Joan Hackett, David Dukes also star. 120 min. C/Rtg: R
The Slugger's Wife (1985)
Neil Simon once again explores the wobbly relationship between young marrieds in this comedy about the effect their careers have on the marriage of baseball player Michael O'Keefe and rock singer Rebecca De Mornay. Co-stars Martin Ritt, Randy Quaid; directed by Hal Ashby. 104 min. C/Rtg: PG-13
Set in New York in 1942, Neil Simon's sensitive, often funny award-winning story centers on the dysfunctional family of an elderly, iron-willed candy store owner (Irene Worth). Among the members of her clan are Uncle Louie (Richard Dreyfuss), a brother in trouble with the mob; and Bella (Mercedes Ruehl), her neurotic 36-year-old daughter. David Strathairn also stars. Directed by Martha Coolidge. 114 min. C/Rtg: PG
Jake (Alan Alda) is a writer with an overactive imagination. He spends all his time talking to his daughter (Kimberly Williams), his sister (Julie Kavner), and his therapist (Joyce Van Patten). There's just one problem: the women are never actually there for the conversations. Can Jake use his creative thoughts to dream up a solution to his real-life troubles with his wife (Anne Archer)? Mira Sorvino, Lolita Davidovich co-star in this sweet and funny tale from the pen of Neil Simon. 93 min. C/Rtg: NR
Zesty adaptation of Neil Simon's play about a disparate group of tourists whose lives converge over the course of one day at an English hotel. Among the travellers are newlyweds (Jonathan Silverman and Julia Louis-Dreyfus) who've lost their luggage, tennis fans (Michael Richards and Julie Hagerty) who've lost their Wimbledon tickets, and an actress (Patricia Clarkson) whose ex-husband (Kelsey Grammer) is hitting her up for a loan for his gay lover. With Madeline Kahn, Kristen Johnston, Richard Mulligan. 90 min. C/Rtg: NR
Woody Allen and Peter Falk star as the former comedy partners who, after years of animosity, agree to reunite for a big-budget movie, only to have their long-simmering feud boil over again. Sarah Jessica Parker, Edie Falco, Liev Schreiber, and Michael McKean also star in Neil Simon's updating of his hilarious 1972 Broadway play. 120 min. C/Rtg: NR
Standard/Widescreen; Soundtrack: English.
| | |
| --- | --- |
| Title: | Neil Simon Comedies: The Playwright Collection |
| Genre: | Comedy Video |
| | |
| --- | --- |
| Studio: | Mill Creek |
| Number of Discs: | 3 |
| Release Date: | 11/13/2018 |
| | |
| --- | --- |
| Product Type: | DVD |
| UPC: | 683904546746 |
| Item #: | 2100714X |