Show results for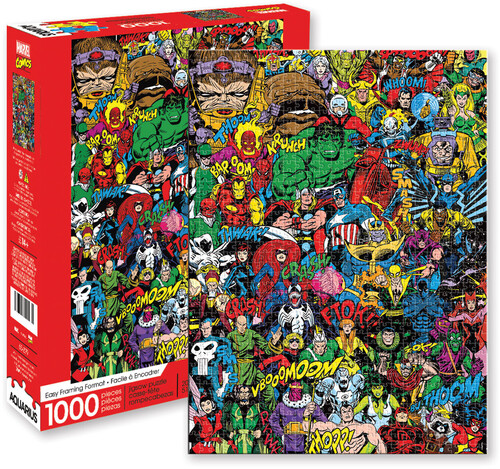 MARVEL RETRO 1000PC PUZZLE
Overview
Marvel Retro Cast 1000 pc Puzzle
Reach back into the past of Marvel Comics with this 1000 PIECE JIGSAW PUZZLE featuring retro art of some of your favorite characters. You may even be tempted to provide your own sound effects as you complete it!
The ultimate Marvel gift for Marvel Comics fans of all ages. Perfect for family puzzling, game night, birthdays, holidays, kids and adults will absolutely love it.
Our precision cutting technique ensures a perfect fit of all puzzle pieces, leaving virtually no puzzle dust behind. We use thick quality paper that is glare-free so you can show off your masterpiece with pride.
Product Details
Dimensions: 10 x 8 x 2.25 in
All our Marvel Puzzles are designed by AQUARIUS and are officially authorized by Marvel Brands. They're the perfect piece of Marvel Comics collectible memorabilia to add to your collection
Made in China