Show results for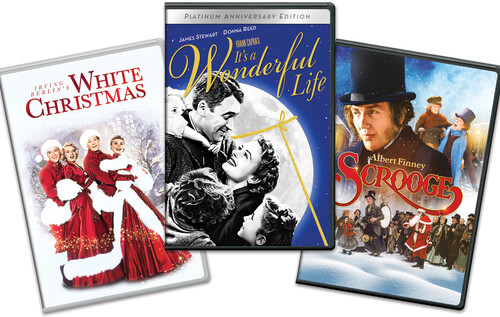 In this Holiday 3 pack Bundle you' ll get It's A Wonderful Life, White Christmas, and Scrooge on DVD.
IT'S A WONDERFUL LIFE
Voted the #1 Most Inspiring Film Of All Time By AFI's 100 Years... 100 Cheers - It's A Wonderful Life has had just that. With the endearing message that "no one is a failure who has friends," Frank Capra's heartwarming masterpiece continues to endure, and after 70 years this beloved classic still remains as powerful and moving as the day it was made.
WHITE CHRISTMAS
Starring legendary performers Bing Crosby, Danny Kaye, Rosemary Clooney and Vera-Ellen and featuring unforgettable music by Irving Berlin, the beloved holiday film offers timeless entertainment for all ages. Also Starring: Robert Crosson, Dean Jagger, Richard Shannon, Grady Sutton, Sig Ruman, Herb Vigran
SCROOGE
Mean-spirited and stingy, Ebenezer Scrooge has a sour face and "humbug" for anyone who crosses his his path. But on this Christmas Eve, he will learn the horrible fate that awaits him if he continues his miserly ways. Actors: Albert Finney, Alec Guinness Year: 1970 Runtime: 114 minutes Original Language: English Subtitles Available: English. Albert Finney, Alec Guinness, Edith Evans, Kenneth More, Laurence Naismith Director: Ronald Neame
HOLIDAY 3 PACK DVD BUNDLE- IT'S A WONDERFUL LIFE / WHITE CHRISTMAS / SCROOGE
| | |
| --- | --- |
| Product Type: | DVD |
| UPC: | 191329240717 |
| Item #: | 2532685X |