Show results for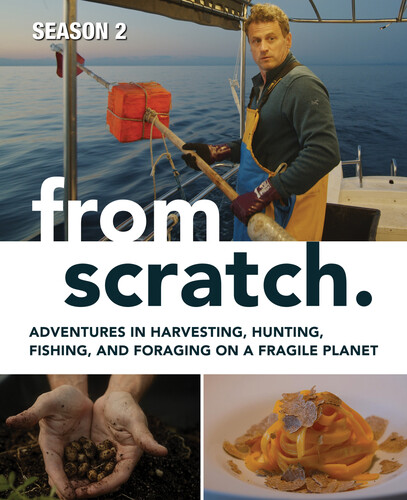 SYNOPSIS:
From Scratch follows actor/producer/adventurer David Moscow on a worldwide expedition of making meals literally from scratch. After being presented a dish from a Chef or homecook, David will have to hunt, gather, forage and grow each ingredient to remake that meal. The meal needs butter? Well then David has to milk a cow, and churn it until he has butter. No shortcuts… TEXT
David explores the overwhelming amount of work, craftmanship, and passion that happens before ingredients show up in the kitchen, as he attempts to recreate these dishes.
DETAILS:
FORMAT: DVD
GENRE: TV
RATING: NR
RUNTIME: 467 minutes
LANGUAGE: English
DISC COUNT: 2
FROM SCRATCH: Season 2 - 10 Episodes on 2 DVDs.
| | |
| --- | --- |
| Studio: | Uncork'd |
| Number of Discs: | 2 |
| Attributes: | AC-3 |
| Release Date: | 4/18/2023 |
| | |
| --- | --- |
| Product Type: | DVD |
| Rated: | NR |
| UPC: | 679360989678 |
| Item #: | 2558438X |
| | |
| --- | --- |
| Street Date: | 4/18/2023 |
| Original Language: | ENG |