Show results for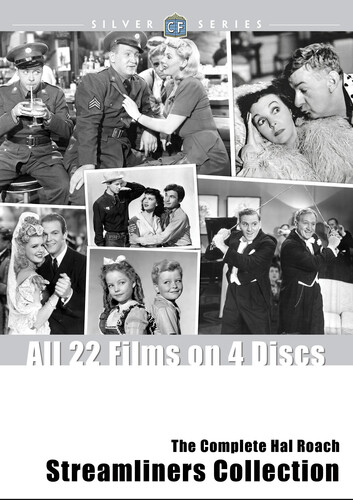 SYNOPSIS:
For the first time in one collection comes all 22 Hal Roach Streamliners from ClassicFlix!
When you hear the word ""streamliner,"" you might picture those high-speed passenger trains from the 1930s to the 1950s. For pioneering movie producer Hal Roach, however, "streamliner" had an entirely different meaning.
The man whose film studio was home to such comedy legends as Laurel & Hardy saw a changing landscape in the picture business in the late 1930s and came up with the idea of producing features with run times of an hour or less to accommodate movie houses, as well as cut production costs. The concept would prove successful with 22 streamliners being produced by Roach between 1941 and 1948.
While their runtimes were less than a typical feature, the streamliners weren't short on laughs and produced such hit series' as the Tracy-Sawyer Military Comedies (6 films starring William Tracy and Joe Sawyer), the Taxi Comedies (3 films starring William Bendix and Joe Sawyer) and the Western Comedies (3 films starring Noah Beery, Jr. and Jimmy Rogers).
Roach also filmed three musical comedies, re-teamed the popular duo of ZaSu Pitts and Slim Summerville for two romps and later rebooted his former "Our Gang" franchise in the form of two new Cinecolor "Curley" comedies.
This special 22-film 4-disc collection is a must-have for any fan of Hal Roach comedies with each film culled from the original Hal Roach Studio masters.
Other stars and feature players include James Gleason, Margaret Dumont, Grace Bradley, Mike Mazurki, Marie Wilson, Walter Abel, Clarence Kolb, Jean Porter, Donald MacBride, Alan Mowbray, Frances Langford, Johnny Downs, Marc Lawrence, Douglas Fowley, Sheldon Leonard, Elyse Knox, Alan Hale, Jr., Frank Faylen, Marjorie Lord, Veda Ann Borg, Charles Lane, Marjorie Woodworth, Emory Parnell, Betty Compson, Joan Woodbury and many, many more."
DETAILS:
FORMAT: DVD
Region: 1
GENRE: Comedy, Musicals, Westerns
RATING: NR
RUNTIME: 1052 minutes
LANGUAGE: Engl
Color/B&W: B/W & Color
Aspect Ratio: 1.33:1 & 1.37:1
Genre: COMEDY
DISC COUNT: 1
DISC COUNT: 1
NOTABLE TALENT:
Director - Kurt Neumann, Fred Guiol, Bernard Carr, Hal Roach, Jr., LeRoy Prinz, George Archainbaud, Glenn Tryon, Harve Foster, Gordon Douglas
Actors:William Bendix, William Tracy, James Gleason, Joe Sawyer, Douglas Fowley, Elyse Knox, Jean Porter, Margaret Dumont, Veda Ann Borg, Frank Faylen, Marjorie Lord, Dick Wessel, Charles Lane, Rebel Randall, Ralph Dunn, Betty Compson, Joan Woodbury, Arthur Hunnicutt, Noah Beery Jr., Emory Parnell, Marjorie Woodworth, Mike Mazurki, Glenn Strange, Jimmy Rogers, Frances Langford, Johnny Downs, Zasu Pitts, Slim Summerville, Walter Abel, Marie Wilson, Larry Olsen, Eilene Janssen, Frances Rafferty, Kathleen Howard, Grant Mitchell, Don Castle, Virginia Grey, George Zucco, Paul Hurst
The Complete Hal Roach Streamliners Collection (ClassicFlix Silver Series)
| | |
| --- | --- |
| Studio: | Classicflix |
| Number of Discs: | 4 |
| Attributes: | Boxed Set |
| Release Date: | 12/12/2023 |
| | |
| --- | --- |
| Product Type: | DVD |
| Rated: | NR |
| UPC: | 850049732116 |
| Item #: | 2597397X |
| | |
| --- | --- |
| Region: | 1 |
| Street Date: | 12/12/2023 |
| Original Language: | ENG |