Show results for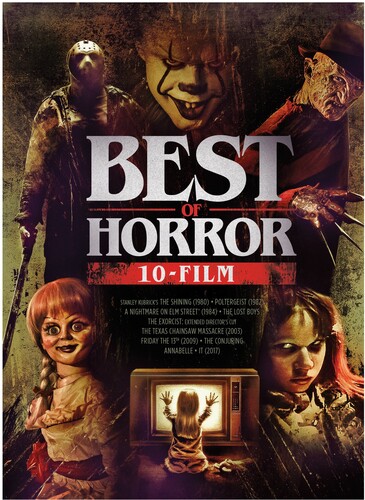 Ten-disc set includes:
The Exorcist (1973)
Director William Friedkin's modern horror classic stars Linda Blair as Regan MacNeil, a young D.C. girl possessed by Satanic forces, Ellen Burstyn as her terrified mother Chris, and Max Von Sydow and Jason Miller as the priests who must confront the powers of Hell--and their own inner demons--to save Regan. Scripted by William Peter Blatty, who adapted his best-selling novel. Extended director's cut; 132 min.
The Shining (1980)
From writer Stephen King and director Stanley Kubrick comes a classic tale of madness and terror that has climbed the list of greatest horror films since its initial release. Struggling writer Jack Torrance (Jack Nicholson), his wife Wendy (Shelley Duvall), and their psychic son Danny (Danny Lloyd) spend the winter overseeing the deserted and isolated Overlook hotel, where the ghosts of the site's shocking and bloody past plague Jack's sanity. With Scatman Crothers, Barry Nelson. 142 min.
Poltergeist (1982)
They're here. At first, the ghosts haunting the Freelings' new home seem playful, rearranging furniture and interfering with their TV reception. Then, little Carol Anne (Heather O'Rourke) is abducted into their netherworld, and her parents (Craig T. Nelson, JoBeth Williams) fear they may have lost their child to specters with more malevolent intentions. Produced by Steven Spielberg and directed by Tobe Hooper; Zelda Rubenstein, Beatrice Straight co-star. 114 min. C/Rtg: PGC/Rtg:
A Nightmare On Elm Street (1984)
Ginsu-gloved dream demon Freddy Krueger makes his debut in Wes Craven's classic slasher. The line between nightmare and reality is shattered when child murderer Krueger terrorizes the sleeping teens of Springfield, seeking revenge against the kids of those who killed him years earlier. With Heather Langenkamp, John Saxon, Johnny Depp (his first film), and Robert Englund as Freddy. 92 min.
The Lost Boys (1987)
A new family moves into a small California town, and the teenage son is immediately taken with a local girl, only to discover that she (and most of the town youth) are vampires! It's up to his younger brother to save the day in this stylish and offbeat horror film. Jason Patric, Corey Haim, Jami Gertz, Kiefer Sutherland, and Dianne Wiest star. 97 min.
The Texas Chainsaw Massacre (2003)
The rip-snorting, gore-drenched reworking of Tobe Hooper's 1974 original is set in the early 1970s and follows the horrific adventures of five teens on a dope-fueled road trip home from Mexico to Texas. The kids pick up a distraught hitcher who kills herself and, after notifying a local sheriff of the incident, they end up at a decaying house populated by saw-swinging Leatherface and his cannibalistic clan. With Jessica Biel, Eric Balfour, R. Lee Ermey, Andrew Bryniarski as Leatherface, and the voice of John Larroquette. 98 min.
Friday The 13th (2009)
This re-imagining of the original film that started the Jason Voorhees legend returns to a closed Camp Crystal Lake, where a group of young people discovers Jason and his lovely mother. It isn't long before the wily youths learn why the notorious campsite remained shut down, as the maniacal Jason continues his savage killing spree. Jared Padalecki, Danielle Panabaker, and Amanda Righetti star. 97 min.
The Conjuring (2013)
Before their fame as the Amityville paranormal investigators, Ed and Lorraine Warren (Patrick Wilson, Vera Farmiga) became embroiled in the terrifying plight of Roger and Carolyn Perron (Ron Livingston, Lili Taylor)--whose newly purchased farmhouse appeared to have been haunted by vengeful spirits. To cleanse the house and protect the family, the Warrens dared to seek out the home's dark secrets. Eerie chiller from director James Wan co-stars Shanley Caswell, Hayley McFarland. 112 min.
Annabelle (2014)
Annabelle, the creepy doll from 2013's "The Conjuring," takes center stage in this fright-filled prequel. When John Form (Ward Horton) gives his wife Mia (Annabelle Wallis) a new doll for her collection, he has no idea the hell that's about to be unleashed. With Annabelle at the center of a series of bizarre occurrences, the Forms soon learn that the terrifying toy brings with it a demonic presence that's out to claim someone's soul. With Tony Amendola and Alfre Woodard. 98 min.
It (2017)
Every 27 years, the otherwise nondescript town of Derry, Maine, finds itself stalked by a monstrous, sewer-lurking circus clown who lures trusting children to unholy demises. With the local adults powerless to act, one local 13-year-old (Jaeden Lieberher)--who lost his kid brother to the creature--bands his misfit friends together for a pursuit that confronts them with their greatest fears. Blockbuster big-screen take on the Stephen King classic co-stars Jeremy Ray Taylor, Sophia Lillis, Finn Wolfhard, and Bill Skarsgård as Pennywise. 135 min.
BEST OF HORROR
| | |
| --- | --- |
| Director: | Various |
| Studio: | Warner Home Video |
| Number of Discs: | 10 |
| Attributes: | Boxed Set, Slipsleeve Packaging |
| Release Date: | 7/28/2019 |
| | |
| --- | --- |
| Product Type: | DVD |
| UPC: | 883929688647 |
| Item #: | 2200921X |
| | |
| --- | --- |
| Street Date: | 7/28/2019 |
| Original Language: | ENG |