Show results for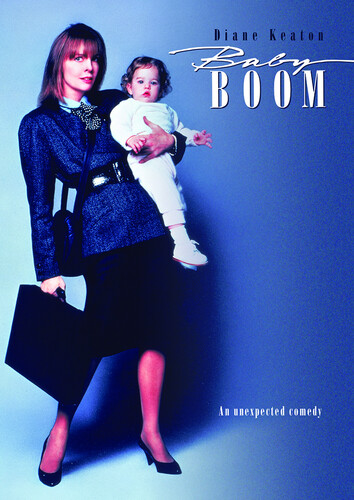 Description / Synopsis
"Diane Keaton (Annie Hall) is in top comedic form in the Nancy Meyers and Charles Shyer scripted Baby Boom directed by Shyer (Father of the Bride, Irreconcilable Differences).
Keaton is Manhattan business dynamo J.C. Wiatt whose life is turned upside down when she's given custody of a baby from a deceased relative. Soon she's trading big city life for small town domesticity when she loses her boyfriend (Harold Ramis, Ghostbusters), her job and any sense of normalcy and moves to Vermont to take on a new role … motherhood.
Rounding out the cast are Sam Shepard (Steel Magnolias) as J.C.'s romantic interest, James Spader (Pretty in Pink), Sam Wanamaker (Irreconcilable Differences), Pat Hingle (Batman) and TV's Saturday Night Live alums Victoria Jackson and Mary Gross.
Label/Studio Name - SANDPIPER PICTURES
Title - BABY BOOM
Configuration - DVD
Rating - PG
Genre - COMEDY
Year of Release - 1987
Actors - DIANE KEATON, HAROLD RAMIS, SAM WANAMAKER, SAM SHEPARD, JAMES SPADER, PAT HINGLE, VICTORIA JACKSON, MARY GROSS
Director - CHARLES SHYER
Miscellaneous Attributes:
Run Time - 110 minutes
Region - 1
Subtitles - ENGLISH
Original Langauge
Discs - 1
Aspect Ratio: 1.85:1
Video Color: COLOR
Audio - STEREO
THE MAN IN THE MOON
| | |
| --- | --- |
| Product Type: | DVD |
| Rated: | PG |
| UPC: | 850035985021 |
| Item #: | 2446109X |