Show results for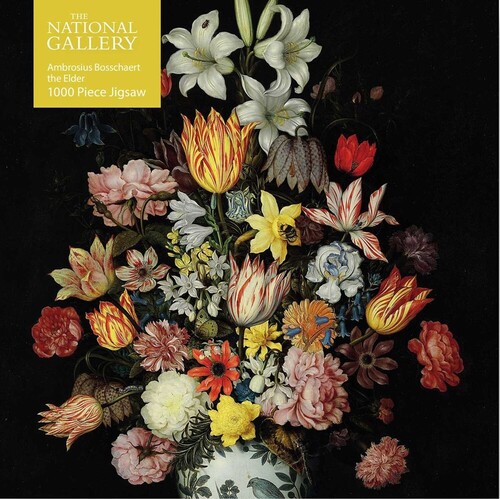 | | |
| --- | --- |
| Brand: | Flame Tree Pub |
| Features: | Puzzle |
| UPC: | 9781787558908 |
| Item #: | 2333078X |
| Available Date: | 10/20/2020 |
BOSSCHAERT THE ELDER A STILL LIFE OF FLOWERS
Summary:
Part of an exciting series of sturdy, square-box 1000-piece jigsaw puzzles from Flame Tree, featuring powerful and popular works of art.
This new jigsaw will satisfy your need for a challenge. This 1000 piece jigsaw is intended for adults and children over 13 years. Not suitable for children under 3 years due to small parts.
Finished Jigsaw size 735 x 510mm/29 x 20 ins. Now includes an A4 poster for reference.
About the Author:
Ambrosius Bosschaert the Elder was a Dutch Golden Age painter. The flowers in this arrangement, which include lilies, tulips, roses, and carnations, are painted with almost scientific precision. Bosschaert's choice of a smooth copper support enhances the extraordinary detail of his brushwork.
The bouquet itself, however, is a fiction: these flowers do not bloom at the same time, and would have been far too precious to cut for temporary display.
This example features a licensed image from National Gallery: Bosschaert – A Still Life of Flowers.
Designed and developed at Flame Tree Publishing, an independent publisher of nearly 30 years. Flame Tree Studio is our creative hub bringing people, ideas and techniques together to make fine, illustrated books, art calendars and practical stationery with delightful, thoughtful combinations of text and images. Our creative teams work with artists, illustrators, licensors, museums and galleries throughout the world to offer carefully crafted, timeless works of art across many complementary formats. Flame Tree: The Art of Fine Gifts.