Show results for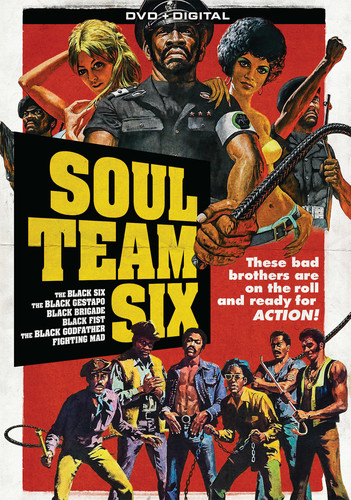 These bad brothers are on the roll and ready for action. Prepare for 6 films, packed full of swagger and the biggest, baddest, and best dudes - ever!
The Black Angels - Des Roberts, James Whitworth, John King III - (1970) Color 87 Minutes Rated R
A white motorcycle gang is at odds with a rival black gang over who will rule the road. Both groups live their lives to the extreme, partying hard and fighting anything that will stand in their way.
The Black Godfather - Rod Perry, Diane Sommerfield, Jimmy Witherspoon - (1974) Color 94 Minutes Rated R
Hoping to break the mob's hold on the drug trade in his neighborhood, J.J. (Rod Perry) and his gang decide to have an all-out war against the Mafia using their guns as well as their martial arts skills in the battle.
The Black Six - Gene Washington, Carl Eller, Mean Joe Greene - (1974) Color 94 Minutes Rated R
Righteous biker Bubba (Gene Washington) and his five war buddies go south to avenge his slain brother.
Black Gestapo - Rod Perry, Charles P. Robinson, Phil Hoover - (1975) Color 88 Minutes Rated R
The staff leader (Charles P. Robinson) of a black community-service militia organizes a private army and initiates a violent war against white mobsters.
Black Fist - Richard Lawson, Dabney Coleman, Philip Michael Thomas - (1975) Color 94 Minutes Rated R
A street fighter (Richard Lawson) seeks revenge against the gangsters who killed his wife.
Black Brigade - Stephen Boyd, Richard Pryor, Robert Hooks - (1970) Color 70 Minutes Rated PG
A group of soldiers with no combat experience hold a World War II dam for their bigoted captain (Stephen Boyd).
Soul Team Six - 6 Blaxploitation Film Collection
| | |
| --- | --- |
| Studio: | Mill Creek |
| Number of Discs: | 2 |
| Release Date: | 4/16/2019 |
| | |
| --- | --- |
| Product Type: | DVD |
| UPC: | 683904547156 |
| Item #: | 2143350X |