Show results for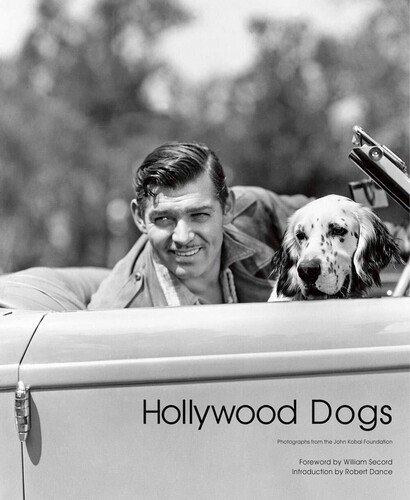 HOLLYWOOD DOGS
Summary
Over 100 images of classic Hollywood film stars, photographed with dogs of all shapes and sizes
A perfect gift for film buffs, and for anyone that loves dogs
"These stunning images of some of Hollywood's most iconic stars and their beloved dogs are possible the best thing we've ever seen" - Marie Claire
Hollywood Dogs showcases a fine selection of photographs from the famous John Kobal Foundation. Taken between 1920 and 1960 during the Golden Age of Hollywood, they feature stars including Humphrey Bogart, Buster Keaton, Elvis Presley, Tony Curtis, Sophia Lauren, Elizabeth Taylor, Rock Hudson, Ava Gardner, Shirley Maclaine, Frank Sinatra, Grace Kelly and Audrey Hepburn posing with dogs of every stature and breed. In almost every case, these stunning photographs have never been seen before now. As much as the Hollywood studio system tried to control every aspect of their stars' lives, there was nothing the bosses could do to manipulate their illustrious employees' responses when photographed with their dogs. Hollywood Dogs celebrates this special relationship between these famous owners and their animals.
Often caught off-guard, and almost always relaxed and natural, these are photographs of the Hollywood stars as real people. Amongst the images are some of the most famous dogs in Hollywood films: Lassie; Asta; Rin Tin Tin and Toto from the Wizard of Oz. There are also a few carefully-set-up publicity shots, such as Frank Sinatra on the set of Pal Joey, and Jean Harlow accessorized with a large hat and two Old English sheepdogs. Each image has been researched to identify the breed and wherever possible, the name of the dog, and Catherine Britton has included intriguing details about the location and background to the photograph.
About the Author
Gareth Abbott has been working with photographers for over twenty years. During that time he has curated/co-curated over one hundred exhibitions and been involved in the publication of numerous photography books including Hollywood Unseen (ACC Editions, 2012). He has worked with many of the major museums of the world, and produced a BBC4 exhibition on the photographer Brian Duffy.
Product Details
With images throughout
Hardcover: 128 pages
Publisher: Acc Art Books
Pets / Dogs