Show results for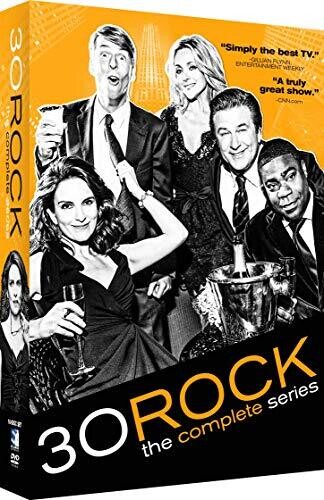 All 138 Episodes from all 7 Seasons together for the first time ever!
Tune in with 30 Rock The Complete Series including every hilarious episode from this multi-award-winning hit series. From Executive Producer Lorne Michaels (Saturday Night Live) and created by and starring Emmy® and Golden Globe® winner Tina Fey, paired up with fellow Emmy® and Golden Globe® winner Alec Baldwin, as quirky TV writer Liz Lemon and conservative company executive Jack Donaghy, bound together by chaos, charisma and employment contracts! Together Jack and Liz preside over the everyday mayhem at a late-night variety show with no help from Liz's loose cannon stars Tracy Jordan (Tracy Morgan) and Jenna Maroney (Jane Krakowski) and hapless NBC page Kenneth Parcell (Jack McBrayer).
Starring Tina Fey, Alec Baldwin, Tracey Morgan, Jane Krakowski, Jack McBrayer
Winner of 16 Emmy® Awards including Outstanding Comedy Series, Outstanding Lead Actor (Alec Baldwin), Outstanding Lead Actress (Tina Fey), Outstanding Writing, Outstanding Casting and more!
Bonus Features include Commentaries, Deleted Scenes, Gag Reels and more!
Guest Stars include: Elizabeth Banks, Will Ferrell, Matt Damon, Jon Hamm, James Marsden, Jason Sudeikis, Will Forte and hundreds more!
| | |
| --- | --- |
| Title: | 30 Rock: The Complete Series |
| Genre: | TV Comedy, Television |
| Theme: | EMMY WINNER |
| Starring: | Tina Fey, Jane Krakowski, Alec Baldwin, Tracy Morgan, Scott Adsit, Jack McBrayer, Katrina Bowden, Kevin Brown, Grizz Chapman, John Lutz |
| | |
| --- | --- |
| Product Type: | DVD |
| UPC: | 683904111845 |
| Item #: | 2273712X |